By Kica Matos
CCC Director of Immigrant Rights and Racial Justice
Only one year ago, the Center for Community Change and the immigrant rights movement celebrated the 10th year anniversary of the May 1st mega-marches of 2006. That day was filled with so much hope for that, together, we could create permanent and positive changes to immigrant families.
Last May 1st, we reflected on the "Immigrant Spring" of 2006 when boycotts and massive demonstrations erupted in response to the infamous "Sensenbrenner Bill" – a set of draconian immigration enforcement measures that passed the House and were later defeated in the Senate. The protests culminated in the marches of May 1st, called A Day Without Immigrants, in which millions of immigrants and their allies flooded the streets in cities across the country. That day, I was in the New Haven Green, taking part in a march and rally with thousands of other New Haven residents.
Our voices prevented the passage of a violently anti-immigrant bill and raised the public discourse on the issue of unauthorized immigration and the need for humane, comprehensive immigration reform.  We inspired the subsequent decade of voter registration, movement building for immigrant rights organizations, and a generation of young activists who remain at the forefront of our movement.
Flash forward to 2017: In less than 100 days, we have faced Executive Orders and Cabinet confirmations that call into question the fundamental values of this country as one that promotes equality, inclusion and justice for all.
Scenes are playing out across the country — at schools, private homes, grocery stores and workplaces: children watching their parents taken into custody by Immigration and Customs Enforcement Officers.  ICE Officers showing up at courtrooms to detain victims of domestic violence and hypothermia shelters on winter mornings to intercept undocumented immigrants. The threats of mass deportations and the termination of Deferred Action for Childhood Arrivals (DACA) loom.
Our show of resistance to these threats must be equal to our outrage, they must be a call to action to millions of allies for the fight ahead.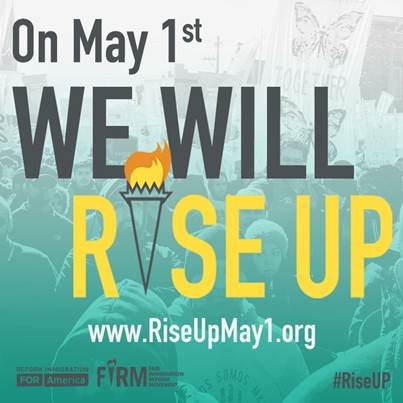 On May 1st, CCC and its partners will participate in a national day of action called Rise Up! May 1. In cities, towns and communities across the country hundreds of thousands of people will rise up in resistance to demonstrate the power, resilience and strength of immigrant communities in America.
We are proud to join with the 42 strong organizations of Fair Immigration Reform Movement (FIRM).  Just as the FIRM groups helped take the lead in the rise-up at airports in January, we will help lead these May 1 marches during such a critical time in American political history.
In 42 cities in 21 states, Rise Up! partners will hold marches, rallies, student walk outs and more.  We will rise up for all those being targeted by Trump's hate – the DACAmented, our Muslim community, our LGBTQ sisters and brothers, for black lives and in defense of our planet.  We will again make history on this day and, together with our brothers and sisters in the progressive movements, we will stand in defiance and our solidarity will be the foundation for the years of resistance ahead.